Last Updated on July 19, 2023
Baby swings can provide infants with a soothing environment, helping them relax and sleep. They can also be a great way to entertain babies, providing them with stimulating movement and sound.
However, baby swings are not essential items for every family. Before purchasing one, consider your lifestyle and budget to determine if a swing is right for you. 
If you decide to purchase one, make sure it meets safety standards and has adjustable settings so it can grow with your baby.
In this blog post, we'll discuss the benefits and drawbacks of baby swings. We'll also discuss whether a swing is worth it for the baby. So, keep reading!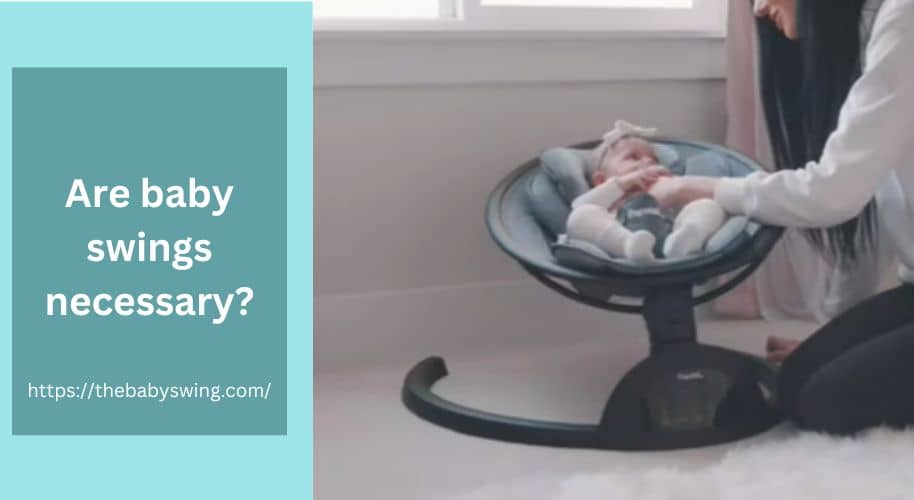 Are baby swings necessary?
As stated above, baby swings can be a great addition to any nursery, providing comfort and entertainment for your little one. While they are not necessary for all babies, they can be a helpful tool in soothing and calming fussy infants.
"For some families, they provide a great way to soothe their restless baby and can be an invaluable tool in helping them get some rest," says Jason Bromberg, a Pediatrician at Agoura West Valley Pediatrics.
"If your baby is having difficulty sleeping, a swing might be the perfect tool to help them get settled down," he added.
However, baby swings can be expensive and take up a lot of space. They also require regular maintenance to ensure they are safe and functioning properly.
We spoke with Cristina Chirston, a mother of a 4 months baby boy who has been using a Baby Swing for more than two months now.
She said, "From the moment my baby first saw this, he was in love. His reaction is priceless – whenever I put him into it and begin buckling him up, his eyes just light up! It's become our go-to for calming him down because the songs never get old or annoying. If you're looking for something to soothe your baby, a swing definitely comes highly recommended from me. He's 4 months and still loves it!"
Christina added, "the gentle rocking motion of the swing helps my baby relax and puts him into a deep sleep."
Additionally, its features like music, lights, and vibration help keep him entertained while I take care of other tasks around the house.
However, when choosing a baby swing, you should consider the weight limit as well as safety features such as straps and harnesses. You should also make sure that the swing is easy to clean and assemble.
It will make your life much easier if you consider all these factors before investing in one. Baby swings can be great for soothing and entertaining your little ones, so make sure you make the right choice. You'll be glad you did!
Also read: Can babies nap in 4moms swing
Is a swing worth it for baby?
Baby swings can be a lifesaver. There is no doubt about it. It is a great way to soothe and entertain your baby, but they come with some considerations.
Before investing in a swing, you must consider the size of the available space, how much you're willing to spend, and what features are most important to you. 
A swing may be worth it if you're looking for something to help your baby sleep better or provide entertainment while you get other things done around the house.
When shopping for a swing, look for one that reclines and has adjustable speed settings so your baby can find the perfect comfort level. 
Dr. Jason Bromberg also suggests that you look for swings that have safety features like straps or harnesses and a large, comfortable seating area.
Additionally, consider whether you'd prefer an electric or battery-powered model as well as if there are any additional features that would be useful, such as music or vibration settings.
Swings can be a great addition to any nursery as long as they are used safely and correctly. With the right model, your little one can enjoy hours of soothing motion and entertainment while giving you some much-needed peace of mind!
Watch this video on whether you should buy a newborn baby bouncer or a swing
What is the purpose of a baby swing?
The main purpose of a baby swing is soothing and entertain your baby. It provides constant motion, which can help calm a fussy baby and provide a safe place to place the baby. 
The rocking and swinging motion of the swing helps to mimic the movement felt in the womb, making it a comforting environment for your little one.
Additionally, many swings have noise settings that can help lull babies to sleep. When considering if you need a baby swing, it's essential to consider their purpose and age recommendation. 
Generally, babies can use swings right from birth up to 9 months old. But caution should be taken when introducing them for the first time.
Also read: Are baby swings harmful
Benefits of Using a Baby Swing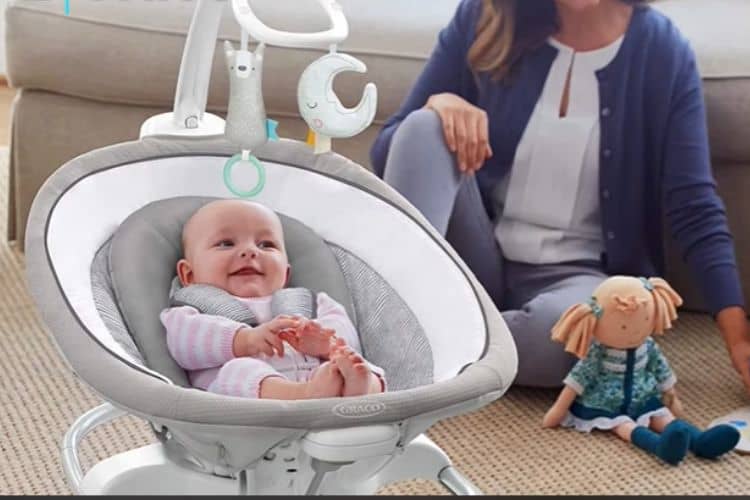 There are a number of benefits for parents to consider when it comes to using a baby swing. These are:
1. Comfort and Relaxation 
Baby swings provide a comfortable and soothing rocking motion that can help babies relax, calm down, and even fall asleep.
2. Stimulation
Swinging motions can stimulate babies' senses, helping to develop their motor skills as well as encourage healthy weight gain when used for extended periods of time.
3. Bonding Time
A baby swing is also ideal for parents to bond with their little one, spending quality time together while safely secured in the seat or cradle of the swing.
4. Free Hands
A baby swing allows parents to have both hands free while still keeping an eye on their child at all times!
5. Entertainment
Many swings come with various bells and whistles to keep babies entertained – from music and lights to interactive toys and games.
7. Versatility
They come in several variations, including basic manual cradles and wind-up styles, as well as more advanced motorized versions that can be adjusted to find just the right swing speed and motion for your baby.  
Many swings are also designed to grow with your child, featuring adjustable heights, reclining positions, and different seat sizes.
8. Convenience
Baby swings are an ideal way to soothe and entertain your little one while you accomplish other tasks around the house or even get a few minutes of rest yourself!  This makes them an invaluable addition to any parent's toolkit.
Using a baby swing allows parents to enjoy all these wonderful benefits while their child relaxes, plays, and stays safe. 
Also read: How long can baby use Graco swing
How to safely use a baby swing? 
When it comes to providing comfort and entertainment for your baby, a baby swing can be a great option. However, you need to follow some precautions to ensure your baby's safety. Here are some tips for using a baby swing safely:
Read the instructions carefully before using the swing. Make sure you understand how to properly assemble and use the swing.
Don't allow the baby to sleep in the swing. If the baby falls asleep, move them in a safe sleeping surface like crib or bassinet. 
The American Academy of Pediatrics (AAP) advises parents against using swings for sleeping babies, as they are not designed for this purpose. Unlike cribs or bassinets, swings don't provide the same level of protection from Sudden Infant Death Syndrome (SIDS).
Always use the safety straps provided with the swing, and make sure they are securely fastened around your baby's body.
Place the swing on a flat surface away from any objects that could cause harm if they come into contact with it or your baby while in the swing.
Never leave your baby unattended in the swing, even if they appear to be sleeping peacefully.
Pay attention to weight limits when choosing a baby swing; most swings have a maximum weight limit of 30 pounds or less, so be sure to choose one appropriate for your child's size and age range.
Be aware of any recalls or product warnings related to the particular model of swing you are using and take action accordingly if necessary.
By following these tips, you can help ensure that your little one enjoys their time in their new baby swings safely!
What to Look for in a Baby Swing?
Regarding baby swings, there are a few things to consider before you make your purchase.
1. Weight Limits
Make sure the baby swing you choose meets the weight limits of your child. It is important to check the weight limit beforehand so that your infant can safely and securely use the swing for years to come.
2. Comfort
Every baby loves to feel comfortable! Look for a swing with an adjustable seat and backrest for extra comfort and plush fabrics and cushions for added luxury.
3. Motion Settings
Different swings have different motion settings, including side-to-side, front-to-back, or combination motions. 
Take some time to determine which type of motion setting would be most beneficial for your little one and ensure the product you buy includes it.
4. Battery Life
Many swings offer battery-powered operation, so look for one with long battery life to get the most out of your purchase and save money in the long run.
5. Safety Features
As parents, safety should always come first! Look for swing models that have additional safety features, such as an adjustable harness or straps, non-skid feet, and any other hardware that can help keep your baby secure while in the swing.
6. Entertainment Options
Many swings come with toys, music, and/or lights to keep babies entertained during their time in the swing. This is a great way to provide extra stimulation for little ones while they are swinging away.
7. Ease of Cleaning
After a few weeks of regular use, baby swings can get dirty and messy. Make sure the swing you choose is easy to clean so that you can always keep up with your little one's messes.
8. Price
Last but not least, price should be considered when selecting the perfect swing for your baby. Check out different brands and models to compare prices and select the best option that fits into your budget.
By considering all these factors, you'll be able to find the right baby swing for your child! 
Also read: Weight limit on baby swings
Wrapping Up
Thanks for reading this guide on whether a baby swing is necessary. Baby swings can be a great addition to any nursery, providing comfort and entertainment for your little one.
However, it's important to weigh the pros and cons before making a purchase. If you decide to get one, ensure it meets safety standards and is easy to clean and assemble.
We hope this guide has been helpful in determining if a baby swing is right for your family! Please share this post with other parents who may find it helpful. Thank you!
Sources:
Sharing Is Caring!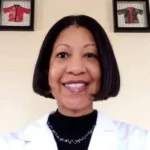 Dr. Leah Alexander is a board-certified general pediatrician who has been in practice for over 20 years. She began working as a pediatrician at Elizabeth Pediatric Group of New Jersey in 2000. Since 2005, she has been working as an independently contracted pediatrician with Medical Doctors Associates at Pediatricare Associates of New Jersey. Read more