Last Updated on July 16, 2023
If you're looking for the best baby swing for big babies, weight capacity is key. But it's not as simple as just choosing a swing with the highest weight limit – there are other factors to consider too, like the seat size, straps and more.
That's why I'm here to help – I've been in the business of reviewing baby gear for years and know what makes good choices from bad ones. So, let me share with you my top picks of swings that can handle your little one's extra pounds!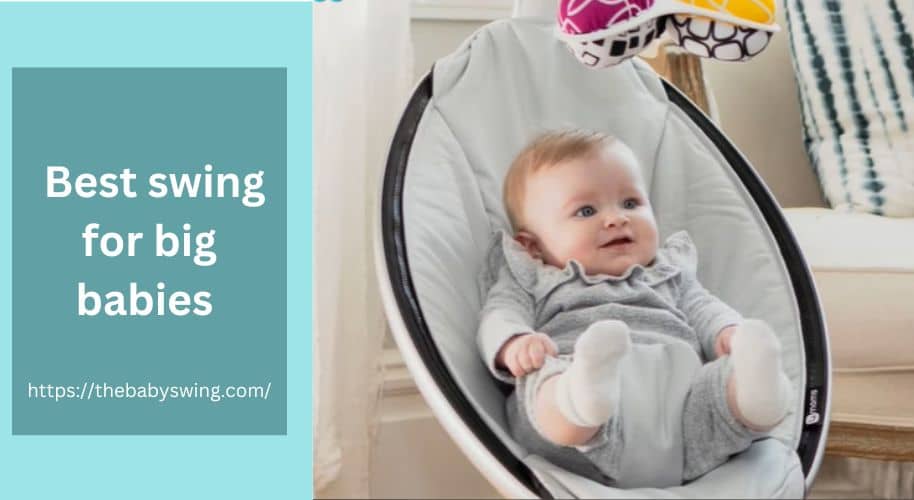 How I chose the best baby swing for large babies?
I looked through dozens of baby swing models and read customer reviews to determine the best one for large babies.
I chose baby swings that were designed specifically for larger babies, with wider seats, higher weight capacity, and additional safety features like straps and buckles.
The product review is based on my own experience using these particular models and does not reflect the opinion of any third party.
This review is not a guarantee or endorsement of the product, but it should help you make an informed decision before purchasing.
So take a look at each one and see which swings would be the perfect fit for your baby!
Best Baby Swing For Big Babies Comparison Chart
Dimension
26.23"D x 20.97"W x 33.59"H
Main Features
6 swinging speeds, 2 in 1 option, 2-speed vibration, 10 melodies and 5 soothing sounds
side-to-side swaying motion, 6 swing speeds, plush seat and head support, 2-speed vibration, Small frame design
5 parent-inspired motions, 5 speeds, and 4 built-in sounds, Bluetooth functionality, Wi-Fi smart home integration, Convertible harness
Top-Pick
Main Features
6 swinging speeds, 2 in 1 option, 2-speed vibration, 10 melodies and 5 soothing sounds
Budget Pick
Main Features
side-to-side swaying motion, 6 swing speeds, plush seat and head support, 2-speed vibration, Small frame design
Premium Quality
Dimension
26.23"D x 20.97"W x 33.59"H
Main Features
5 parent-inspired motions, 5 speeds, and 4 built-in sounds, Bluetooth functionality, Wi-Fi smart home integration, Convertible harness
Reviews of best swings for big babies
Here, you'll find short reviews of my top picks for swings suitable for bigger babies. I'll share the main benefit of each swing, list the physical and functional features and emphasize a few aspects that make it suitable for big babies.
So, without further ado, let's take a look at my top picks.
1. Graco DuetConnect LX – Best swing for big babies overall
Graco DuetConnect LX (Seat &...
Swing seat removes to double as a portable bouncer
6 swinging speeds allow you to find the right setting to calm baby
Roomy seat with recline and head support keep baby cozy
2-speed vibration further comforts your little one
Graco DuetConnect LX Swing and Bouncer is the best option in my Top 3, providing a weight capacity of 30 lbs. The other swing from Graco in the top 5 that can hold up to 30lbs and has 2 in 1 option is DuetSoothe; however, it makes an annoying creaking noise after some use which I find less desirable than DuetConnect.
The footprint of both swings is 34 inches and has features such as nature sounds and music, adjustable speed levels, etc.
What sets the latter apart is its removable seat that can also be used as a bouncer. And DuetSoothe has a detachable rocker instead of a bouncer.
Moreover, being budget-friendly compared to other top swings and having vibration capabilities for extra soothing, this product ticks all the boxes.
However, DuetConnet swing is only powered with electricity, making it less portable for those needing multi-tasking.
User's Feedback:
1. "My husband was able to assemble this swing in about 30 minutes, and it's well worth the price. My daughter loves it and falls asleep quickly once she's settled into it. There is one issue with it though- when turned on for the first time, there's a clicking noise that can be heard before the swing begins its motion. To get past this obstacle, I sometimes have to give the swing a gentle push. Nonetheless, I would still highly recommend this product to my friends and family."
2. "This is a great swing with wonderful features. I am delighted that the seat can be removed and used by itself – it certainly makes life easier! It swings at a good pace and the vibration strength is ideal, though the music/sounds are quite faint. Having read reviews stating it was on the loud side, I am pleased to say this wasn't my experience."
Also read: When to stop using a baby swing
2. Graco Simple Sway – Best budget-friendly swing for big babies
Sale
Graco Simple Sway Swing
Gentle, side-to-side swaying motion soothes and comforts baby
6 swing speeds allow you to find the right pace for baby
Deep, plush seat and head support keep baby cozy and comfortable
Small frame design fits easily anywhere in your home
Graco Simple Sway is an excellent swing that can hold up to 30 lbs. This model does not include a removable rocker or bouncer like the DuetSoothe and DuetConnect, making it perfect for those who don't need this extra feature but still want a good quality product at a reasonable price.
The footprint of this particular swing is 31 inches, which is slightly smaller than the other options while providing a stable base nevertheless.
This unique baby swing stands out amongst many thanks to its high weight capacity and wide frame. Additionally, it's budget-friendly compared to similar top swings with comparable features.
Furthermore, Simple Sway has two vibration modes – ideal for soothing fussy babies – as well as fifteen nature sounds and music options. On top of this, the extra padded seat is comfortable for bigger babies and keeps them secure with a five-point harness.
This swing can be used either with an AC adapter or batteries – whichever suits you best! While the battery option usually drains quickly, using electricity will help save on costs over time.
All these features make Graco Simple Sway one of the best baby swings in the big and tall category.
User's Feedback:
1."This is such a great item for our baby! She loves playing in it. The seat is really big and looks so comfortable, she just has a blast rocking away with a huge grin on her face. The straps are really helpful since she's 4 months old and still learning how to turn over, plus she moves around quite a bit – they keep her secure if I have to take my eyes off of her for a minute. I would definitely recommend this swing!"
2 "As a first-time mom with a one-month old baby, I had difficulty getting more than 15 minutes of free time until I got this swing. My kid would only sit in the 4moms swing for about the same amount of time before crying and fussing. But now she will even fall asleep in it, allowing me to do some chores around the house without having to worry. I'd highly recommend this product; after considering all the reviews, I'm glad that I took the plunge and bought it – it has certainly come to my rescue!"
Also read: Can you sway a baby too fast
3. 4moms MamaRoo – Most Premium baby swing for large babies
4moms MamaRoo Multi-Motion Baby...
5 parent-inspired motions, 5 speeds, and 4 built-in sounds
Find Your Roo, exclusively on the 4moms app, takes the guesswork out of finding the right motion and...
Bluetooth functionality – stream your favorite music for baby, and easily adjust motion, speed, or...
Wi-Fi smart home integration - voice control with Amazon Alexa and Google Home (currently in Beta...
The 4moms Mamaroo is the best premium baby swing for heavy babies. It boasts the highest recline range angles, allowing you to go from a full recline for newborns to a sitting position as your baby grows.
It has five soothing sounds and five swing speeds to find the perfect setting for your baby.
The maximum weight capacity of this swing is 25 lbs, but it is also ideal for bigger and taller babies as it offers a full range of adjustability. This helps reduce the chance of the swing becoming uncomfortable due to an awkward position.
The build quality of the 4moms Mamaroo is exceptional, with a premium feel throughout. From the imposing design to the reversible toy balls of the toy bar, it is built to be durable and withstand even heavier babies.
It also comes with an AC adapter and Bluetooth connectivity, allowing you to control the swing from anywhere in the house with your phone.
The machine-washable seat pad provides extra comfort, while the 4moms app helps to take the guesswork out of finding the right motion and speed combination. It also allows you to schedule auto-swings and keep track of your baby's usage.
The upcoming wifi and voice control integration with Amazon Alexa and Google Home will make operation even easier. The convertible harness from 5-point to 3-point, as needed, also adds to the convenience.
User's Feedback:
1, "So far, this swing has impressed me a lot. I'm in awe of the diversity of motions and speeds it offers. It's also great that it replicates the same moves when you're cuddling a baby. And I think the Bluetooth music option is really cool as it gives you the option to connect your phone and play lullabies or any music you want."
2, "This product is great! It's super comfy and has some awesome features. You can even download an app to control it from your phone. Plus, it has WiFi and Bluetooth capabilities – what more could you ask for? And putting it together was a breeze. Highly recommended!"
Also read: Can a baby sleep in the swing when congested
4. Graco DuetSoothe – Best swing with rocker for big babies
Graco DuetSoothe Swing and Rocker
Removable swing seat doubles as a portable rocker, with carry handles to make it easy to move around...
3 seating positions so baby can sway side-to-side or swing front-to-back
2-speed vibration helps to soothe baby
Roomy seat with plush body support and 2-position recline keeps baby cozy and comfortable
If you don't like Graco DuetConnect, which comes with a bouncer, but still want a swing with 2 in 1 feature, then Graco DuetSoothe would be the best option for you.
This swing provides a weight capacity of 30 lbs, whereas its rocker capacity is 25 lbs. The portable handle with the rocker seat makes it easier for you to carry your baby around the house.
The 3 swinging directions with 6 speeds allow you to find the perfect setting to calm your baby. The roomy seat with body support and recline further ensures the comfort of your newborns, whereas its wide base and more stable frame ensure the safety of your bigger baby.
The fabric is machine-washable and removable for easy cleaning. Most importantly, it comes with rechargeable batteries, so you don't have to replace them again and again. When you're at home, you can plug it into the wall, but for outdoor use, you can rely on its built-in battery-powered mode.
Remember that you will need 5D batteries if you want to use vibration mode. However, you can skip this step if you don't want to use vibration.
As mentioned, it makes some noise when swinging but not enough to cause a problem.
So, if you're looking for a versatile swing for your tall baby, Graco DuetSoothe would be the perfect choice for you.
User's Feedback:
1, "I'm not one to often write reviews. However, I really needed to do so with this product. Above all else, I love that you don't need to use batteries if you don't want them (aside from the vibrations). You can make it wireless as well if you prefer! My daughter clearly enjoys the vibrating mode and I'm thankful for it. Additionally, I appreciate that this item can be transformed into a rocker and brought around easily. It does cause some noise while swinging but nothing too disruptive. We got quite a lot of usage out of this but had to reduce using it due to my daughter going to daycare. I highly recommend this item to everyone!"
2, "Everyone living in the house enjoys it. It was suggested getting this swing was a great decision. The rocking aspect is already very popular. It's both durable and easy to put together."
5. Ingenuity Keep Cozy – Best baby rocker for large babies with highest weight limit (40 lbs)
Ingenuity Keep Cozy 3-in-1 Grow...
The Ingenuity Keep Cozy Baby Bouncer, Rocker & Toddler Seat has 3 modes for parent convenience and...
Neutral unisex design blends with your home décor; gives infants and toddlers up to 40 pounds a...
Use the cozy infant bolster to give newborns extra support and comfort; easily remove the bolster...
Soothing vibrations help to keep baby calm; includes 1 detachable plush bunny playtime toy for...
If you are looking for a baby swing with the highest weight limit that suits big babies, then the Ingenuity Keep Cozy 3-in-1 Grow with Me Infant to toddler rocker is an excellent choice for you.
With its neutral unisex design and three modes of use, this rocker will be a great addition to your home. It can hold up to 40 lbs which are perfect for growing babies aged 0-30 months, and it also comes with a cozy infant bolster to give your newborn extra support.
As mentioned, it's actually a rocker with multiple features, such as a bouncer, rocking, and a stationary seat. We've included it here because you're looking for something very sturdy for your large babies which won't outgrow soon. And we couldn't find any better than this.
When your baby does not want to rock, you can easily switch to the stationary seat position with a kickstand at the back of the chair. The soothing vibrations will help keep your baby calm and come with a detachable plush bunny playtime toy.
On top of that, the 2 recline positions will keep your newborn comfortable while the highest weight limit ensures your heavy baby can stay in the swing even as they grow up.
This swing is also safely designed with a 5-point harness to keep your baby secure, and it is machine washable for easy cleaning.
Most importantly, it also comes within your budget, so you can make sure your tall and large baby is safe, comfortable and entertained without breaking the bank.
User's Feedback:
1, "This product has been a hit with our five-month-old baby. We love the removable dangling toys and how simple it is to take out the liner for washing. The one slight downside is that the vibrator device slides into the chair and produces a buzzing noise along with its vibration – something we would like to avoid. Additionally, we wish it had an auto time shut off as without one. It will just run until the battery dies. Other than these two small issues, this chair is great."
2, "I got this for my youngest grandchild to have at my home whenever he comes to visit. It appears like it's going to be a permanent fixture in my daughter's house now since they love it so much and want to keep it there. They own several gadgets for the baby to lay on, but this one is their favorite because you can keep it completely flat without any obstructions. When the child gets bigger, they're able to move it into a more reclining posture and let himself rock. The vibration feature also works great at calming the baby down, making sure he stays asleep. I'm glad that only one C battery is needed, as opposed to a lot of them. A really dependable seat which I can see getting a lot of use, especially during the first year. Put this one in the newborn win column!"
What to look for in the best baby swing for big babies?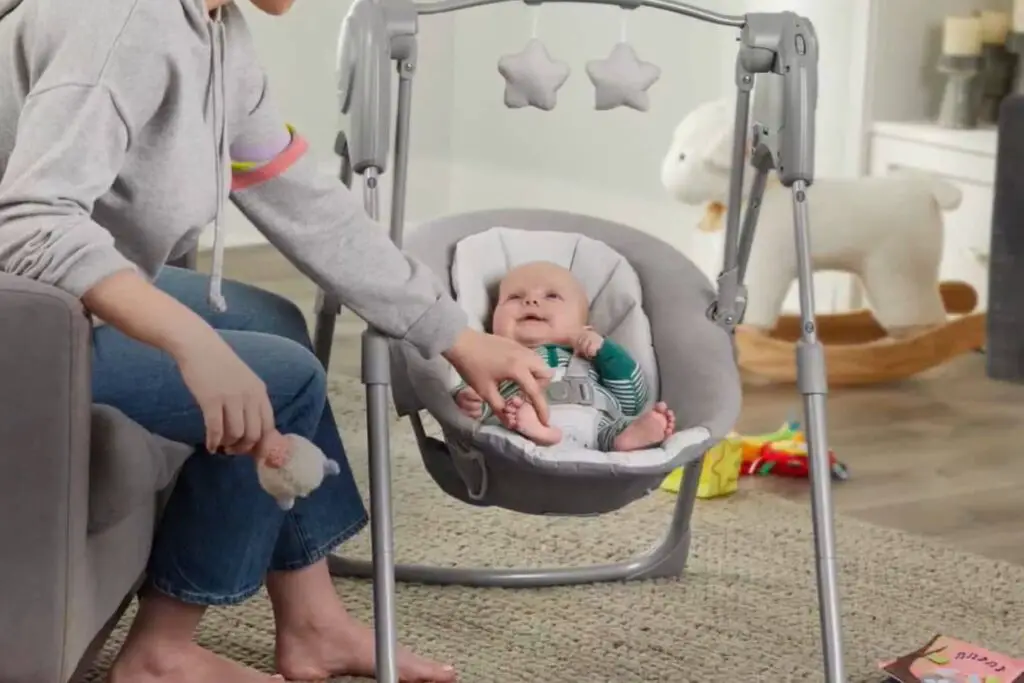 There are several factors to consider when looking for the best baby swing for big babies. These are:
1. Weight limit
Make sure to get a swing that can safely accommodate your large baby's weight. The higher the maximum weight limit, the more comfortable and secure your little one will be. And it won't outgrow the swing too quickly.
2. Adjustable recline
Look for a swing with adjustable reclining positions to find the perfect angle and height for your baby. This will ensure that your little one is comfortable and secure in the swing, no matter their size.
3. Comfort and security
Comfort is key when it comes to big babies, so look for a swing with plenty of padding and adjustable straps to keep your baby secure in the swing.
4. Swing speed
Make sure to find a swing with adjustable swing speeds to find the right speed for your baby. Nowadays, most automatic swings come with multiple swing settings so that you can choose the perfect speed for your little one. Besides, ensure the swing motion is gentle and smooth to ensure their comfort.
5. Safety
Look for a swing certified by the Juvenile Products Manufacturers Association (JPMA) to meet all safety standards and guidelines. Additionally, ensure that 5-point harnesses are adjustable, secure and comfortable for your baby.
6. Durability
Choose a swing with high-quality materials that can withstand daily use over time without deteriorating quality or performance. It should be sturdy and designed to last through multiple children if possible.
7. Entertainment features
A baby swing should have some entertaining features so little ones can be engaged while they swing. These may include music, lights, vibration and more. Choose one that has adjustable volume settings to prevent overstimulation.
8. More than one type of movement
The best baby swing for heavy babies should have multiple swing options like side to side, front to back, etc. This will help your little one stay entertained and develop motor skills.
9. Long battery life or A/C power
Look for a swing with long-lasting battery life or plugs into the wall for A/C power, so you don't have to keep changing the batteries.
10. Value for money
You don't necessarily have to spend a fortune on a baby swing, but make sure to get a good deal that offers features and quality which is equal to the price.
These are some key things to look for when shopping for the best baby swing for big babies. Keep these criteria in mind and you'll be sure to find the right one for your little one!
FAQs
1. At what age are babies too big for a swing?
Babies can typically use a baby swing from birth until the specified weight or age limit. The weight limit on swings can vary from 25 to 35 pounds. On the other hand, most infants will outgrow the swing when they reach 9-10 months of age.
2. What baby swing can be used the longest?
Graco simple sway swing and other similar swings can be used from birth to 30 lbs. However, if you want something that can be used for longer, then look for a baby rocker that can handle up to 40 lbs.
3. When should you stop using a swing?
Most experts recommend transitioning out of the swing around 6 months old. However, you should note that this can vary depending on your child's weight and size, as some babies may outgrow their swings earlier or later than others.
That's why you should consider the weight limit of your swing. The average weight limit for most baby swings ranges from 25-30 lbs, so if your child has exceeded this limit, it may be time to switch them out of the swing.
Additionally, you should also stop using a baby swing once your infant shows signs they want to crawl out (usually around 9 months).
Takeaway
Thanks for reading this guide on the best baby swing for large babies. I hope it has helped you decide which one is the right choice for your little one. Do keep in mind that safety should always be your top priority when choosing products for your child – so make sure the swing you pick meets all the necessary standards and certifications.
Please share this guide with your friends and family if you think it can help someone else in need. Until next time, stay safe!
Sharing Is Caring!