Last Updated on August 18, 2023
Going grocery shopping with a stroller can be a convenient and efficient way to tackle your errands while keeping your little one close.
The convenience of having a stroller allows parents to navigate through crowded aisles with ease while keeping their little ones comfortable and secure. It also provides extra storage space for groceries and essentials.
Yet, navigating a stroller through crowded stores and tight spaces can be challenging, especially when you're with your kid.
This article provides easy-to-follow tips and tricks to make grocery shopping with a stroller enjoyable and stress-free for you and your little ones.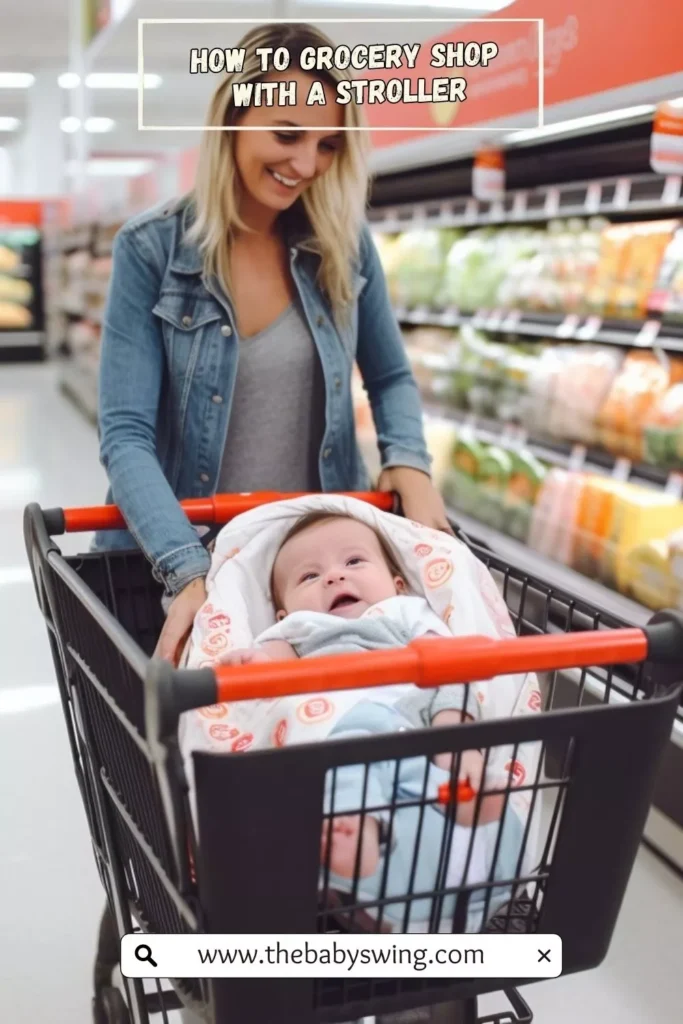 How to grocery shop with a stroller?
New parents often have strong opinions about using strollers while grocery shopping. Let's look at different viewpoints and what experts say to get a complete picture of this topic.
"Imagine you're on a grocery store adventure with your little one! What items do you need to find? Engage your child by making it a fun scavenger hunt," says DeAnn Davies, child development specialist. 
She suggests transforming your grocery shopping trip into a valuable learning experience for your child. 
So, why not take a cue from DeAnn Davies and explore creative ways to incorporate learning into your next grocery shopping outing? You'll be amazed at how much fun and educational it can be for both you and your child!
Imagine trying a "sleep mode" strategy during your grocery shopping trip! As suggested by The Sun, "Try a 'sleep mode' strategy: Use the stroller to keep your baby comfortable and asleep while you shop. Be stealthy and avoid waking them up!"- They explain.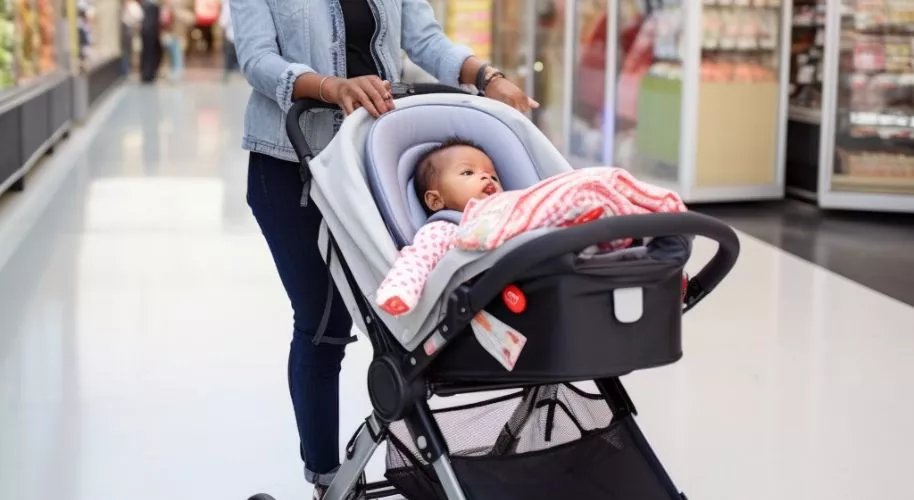 Easy Tricks For Grocery Shopping With A Stroller
Grocery shopping with a stroller can be a challenge, but with a few simple tricks, you can make the experience much smoother. From choosing the right stroller to packing efficiently, here are some easy pointers to help you navigate the aisles with ease.
Find a Lightweight Stroller
Look for a stroller that is lightweight and easy to maneuver. This will make it much easier to navigate through crowded aisles and tight spaces, ensuring a hassle-free shopping experience.
Kolcraft Cloud Plus Lightweight...
ULTRA-LIGHTWEIGHT: Travel friendly lightweight stroller (only 12.87 lbs), perfect for traveling and...
EXTENDED CANOPY AND SUN PROTECTION: Three-tier, extended canopy for maximum sun coverage. A...
EASY ONE-HAND FOLD: Convenient one-hand, self-standing fold, perfect for car travel and vacations....
RECLINING SEAT: Reclining seat offers 5-point safety restraint system and accommodates child up to...
Make a List
Before heading to the store, create a well-organized list of the items you need. Categorize them by sections such as produce, dairy, and pantry, so you can easily find what you're looking for and stay focused during your shopping trip.
Shop During Off-peak Hours
Avoid peak shopping times when the store is crowded. Choose quieter times of the day, such as early mornings or late evenings, to have more space and less congestion in the aisles. This will give you more freedom to maneuver your stroller without any hindrances.

Plan for Breaks
If you're tackling a big grocery run, plan for breaks at designated rest areas within the store. Take a moment to let your little one have some downtime, whether it's a quick snack or a play break. This will help keep them content and less fussy during the shopping trip.

Practice Efficient Packing
Organize your groceries strategically in the stroller basket. Place heavier items towards the bottom to maintain stability and prevent the stroller from tipping. Utilize reusable grocery bags to separate different categories of items and prevent things from falling out.

Utilize Baby-Wearing
Consider using a baby carrier or sling to free up space in the stroller. This allows you to keep your little one close while having more room to store groceries. It also provides them with a cozy and secure environment as they move through the store.

Keep Snacks and Toys Handy
Pack a small bag with snacks and a few favorite toys for your child. This will help keep them entertained and distracted during the shopping trip, reducing the chances of restlessness or meltdowns.

Attach a Baby Cart
Some strollers come with a detachable baby cart or a shopping bag attachment. This additional cart provides extra storage space for your groceries, allowing you to keep them separate from your stroller basket.
Totes Babies - Car Seat Carrier for...
CREATED BY A MOTHER FOR MOMS AND DADS: Shopping with your baby made easy and hands-free. This...
INNOVATIVE DESIGN: We know you cannot hassle with a complicated contraption when dealing with...
SAFETY FIRST: Keep your mind at ease knowing your baby will be safe. Totes Babies carrier has gone...
UNIVERSAL: We've got you covered for all your shopping adventures. Our product has been tested on...
Carry Your Baby
If you have a smaller shopping list or a quick trip, consider carrying your baby in a baby carrier while pushing the empty stroller. This way, you have both hands free to pick up items and navigate the store without the limitations of a stroller.
Use Seatbelts
As your child grows older and can sit up independently, you can transition them to sit in the shopping cart itself. Secure them safely using the built-in seatbelt or use a special shopping cart cover for added comfort and hygiene.
Baby Universal 5 Point Harness Belt...
Replacement straps harness for most Baby Highchairs, baby stroller, Pram Buggy, pushchair baby...
Length: Adjustable, Size of shoulder belt: 69cm L*2.5cm W;waist belt: 59cm L*2.5cm W;hip belt: 39cm...
Material: Durable Nylon
Sewn to the strap adjusters, Secure safety, 5 point can be broken down into 3 point or 2 point type,...
You Might Also Like These Resources! 
How To Select a Stroller for Grocery Shopping?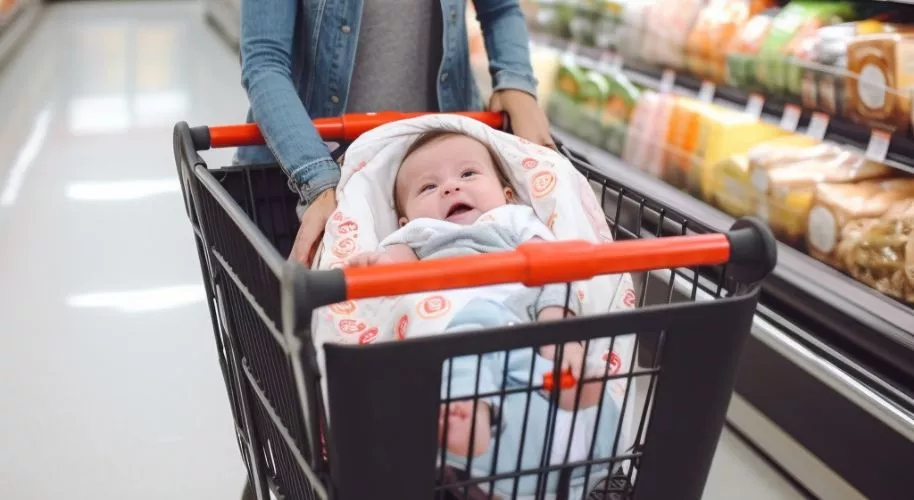 When it comes to grocery shopping with a stroller, selecting the right one can make all the difference in terms of convenience and ease. Here's how to choose the perfect stroller for your shopping needs:
Consider the size: 
Opt for a stroller that is compact and lightweight, making it easier to maneuver through crowded aisles and tight spaces. Look for a stroller that folds easily and can fit comfortably into your car trunk.

Check the storage capacity: 
Look for a stroller with a spacious storage basket underneath. This will allow you to store your groceries while keeping them separate from your baby, ensuring stability and balance.

Explore the handlebar height: 
Pay attention to the handlebar height of the stroller. It should be comfortable for you to push without straining your back. Adjustable handlebars are ideal, as they can be customized to suit your height.

Consider the wheel type: 
Opt for a stroller with sturdy swivel wheels. Swivel wheels provide better maneuverability, allowing you to navigate smoothly through the aisles. Lockable wheels are also beneficial for more stability during heavier loads.

Look for a sturdy frame: 
Ensure that the stroller has a durable frame that can handle the weight of both your child and the groceries. A sturdy frame will provide stability and prevent the stroller from tipping over when loaded with items.

Check for compatibility: 
If you plan to use a detachable baby cart or shopping bag attachment, make sure the stroller you choose is compatible with these accessories. This will allow you to have additional storage options for your groceries.

Consider the folding mechanism: 
Look for a stroller that has a simple and quick folding mechanism. This will make it easier for you to fold and unfold the stroller when entering and exiting the store, or when storing it at home.
What Can be Used in Place of Strollers?
When it comes to grocery shopping, there are alternatives to using a stroller that can make the experience easier and more convenient. Here are some options you can try-
Baby Carrier: 
One of the most popular alternatives to using a stroller is wearing your baby in a carrier or sling. This allows you to have both hands free to handle groceries while keeping your little one close and secure.
Infantino Swift Classic Carrier...
Perfect for On the Go Parents: Our quick, simple to use design is perfect for quick trips and...
2-Ways to Carry: Parents can conveniently wear their baby in 2 positions including inward facing so...
Easy to Adjust: An easy front buckle system opens and closes in snap so putting baby in and out of...
Handy Wonder Cover Bib & Essentials Pocket: Our Wonder Cover Bib protects your clothes and the...
Shopping Cart Hammock: 
A shopping cart hammock is a fabric seat that attaches to the inside of a shopping cart, providing a safe and comfortable space for your baby to sit. This frees up your hands to handle groceries without the need for a stroller.
No products found.
Trolley Bags: 
Trolley bags are reusable shopping bags that can be easily attached to the handle of a shopping cart. They have separate compartments for different items, making it convenient to sort and organize your groceries as you shop.
Lotus Trolley Bags - Reusable...
HEAVY-DUTY, HIGH CAPACITY - Simply Better Reusable Grocery Bags. Unlike others, our patented grocery...
EASY, EFFICIENT SHOPPING - Our grocery cart organizer known as trolley bags streamline your entire...
MACHINE WASHABLE, LRG COOLER + SMART POCKETS - Each trolley bag grocery cart set includes an...
VERSATILE USE - These reusable grocery bags feature reinforced straps and long handles to enable...
Wagon or Pull-Along Cart: 
If you have multiple children or a lot of groceries to carry, a wagon or pull-along cart can be a great alternative. These sturdy carts provide ample space for both your little ones and your shopping bags.
Sale
Navatiee Collapsible Folding Wagon,...
Navatiee Wagon S1 is roundly upgraded to provide an efficient and simple solution for daily use. The...
【Heavy Duty Folding Wagon】: Made of heavy duty alloy steel frame, the structure welded is...
【Built in Double Bearings】: The design of double bearing brings a max loading capacity and...
【Compact Folding Design】: Considering outdoor use and space-saving storage, we adopt a...
Partner or Family Assistance: 
If possible, involve your partner or family members in the grocery shopping process. They can take turns staying with the baby while you complete the shopping, making it easier to navigate the store without a stroller.

FAQs
Can I use a stroller to carry items while shopping?
Yes, you can use a stroller to carry items while shopping. Strollers are allowed in grocery stores, and if there are no carts available, you can use your stroller as a convenient alternative source.
How can I go grocery shopping with a car seat?
When going grocery shopping with a car seat, using a travel system stroller and infant car seat combo is a recommended option. Simply click the car seat onto the stroller for easy transportation of your baby and groceries.
Is it okay to use a stroller instead of a shopping cart?
Using a stroller instead of a shopping cart is generally acceptable. While there are no specific rules against it, some strollers may have baskets or attachments that allow you to store items conveniently while shopping.
Are strollers allowed inside grocery stores?
Indeed, most grocery stores do permit strollers. Although policies may differ, there are generally no widespread restrictions on bringing strollers inside. If you have any concerns, it's a good practice to inquire with the particular store beforehand.
Wrapping Up
Using a stroller while grocery shopping can be a convenient and practical option for parents with young children. It allows you to keep your little one secure and comfortable while having both hands free to handle groceries.
Plus, strollers with built-in storage compartments or attachable bags provide additional space for carrying items. However, it's important to be mindful of store policies regarding stroller usage and ensure that you are respectful of other shoppers' space.
Exploring alternative options such as baby carriers, shopping cart hammocks, or delivery services can also make the grocery shopping experience smoother. Ultimately, finding the right solution that suits your needs and preferences is key!
Sharing is Caring!
You Might Also Like These Latest Content !
Jessica Booth is a freelance writer on parenting and product reviewer.
She has two kids of her own, so she knows a lot about the subject. Jessica has been writing professionally for over five years, and she's had articles published on sites like Bustle, Romper, Forbes, Parade, Business Insider, Good House Keeping, and more. Jessica is passionate about helping parents who are struggling. She believes that every parent deserves to have the tools they need to be successful. As a freelance writer, Jessica is able to share her knowledge and experience with others through her writing. Read more