Last Updated on August 18, 2023
Are you someone who has been suffering from dry eyes? Did you know that a humidifier in your home or office is one of the best ways to combat this problem?
Humidifiers have emerged as a potential relief option for dry eyes, a condition that can cause discomfort and visual disturbances. These devices add moisture to the air, preventing the rapid evaporation of tears, a common cause of dry eyes.
Dry eyes are a common condition that can significantly affect the quality of life for those who suffer from its symptoms. The good news is treatments are available to help alleviate the discomfort associated with this condition.  
In this blog post, I'll discuss how humidity helps soothe dry eyes, share tips on picking out the right type of humidifier, and inform you about other things to consider when establishing your plan for managing your condition. 
Read on if you are interested in learning more!Read on to discover more about how this simple tool can help provide some relief.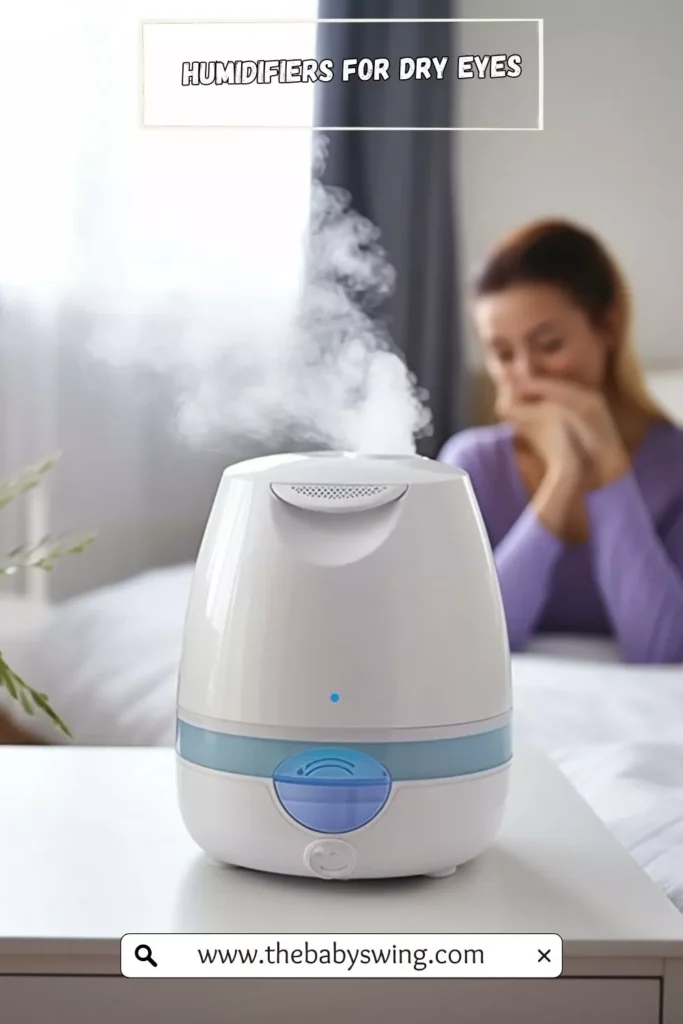 What Is a Dry Eye?
Dry eye, also known as dry eye syndrome or keratoconjunctivitis sicca, is a common condition that impacts the tear film protecting the eyes' surface. 
According to the Mayo Clinic, dry eye disease occurs when tears cannot provide adequate lubrication for the eyes. This can be due to insufficient tear production or poor quality of tears. Tears are critical for maintaining the health of the eye's front surface and providing clear vision.
Boyd (2022) explains that dry eye can occur if your eyes do not produce enough tears or if your eyes do not make the right type of tears or tear film. The tear film comprises three layers: an oily layer, a watery layer, and a mucus layer. Each layer serves a purpose, and an issue with any of them can lead to dry eyes.
Dr. Anat Galor, an ophthalmologist at the Cleveland Clinic, explains, "Dry eye is a complex condition with multiple causes… The tear film is a very important part of the eye's health. It's like the body's own natural contact lens. It keeps the front of the eye smooth, clear, and protected from the outside environment".
Our statistical analysis shows that dry eye affects a significant portion of the population. According to a study published by American Optometric Association (2017), an estimated 16 million adults in the United States have been diagnosed with dry eye disease. 
What are the typical causes and symptoms of dry eye?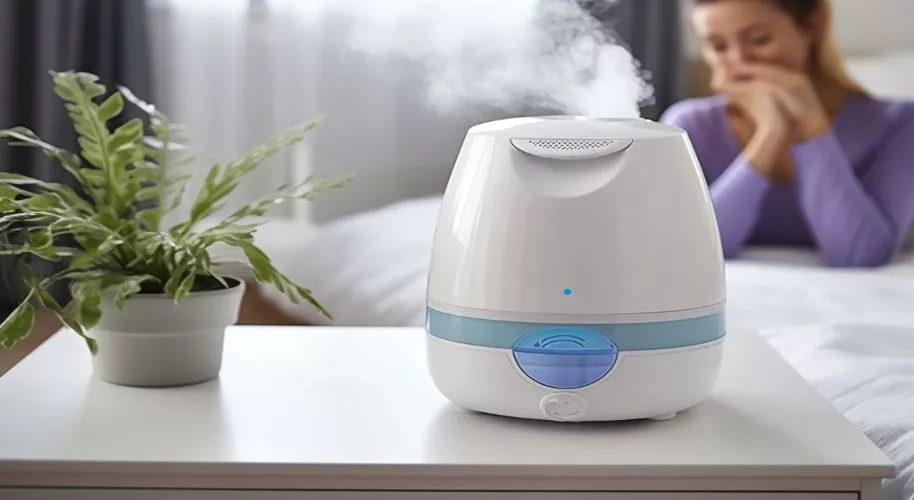 Dry eye syndrome is a common ocular disorder that can cause various symptoms and discomfort. Here are the typical causes and symptoms of dry eye:
Causes:
Hormonal changes, especially in women during pregnancy, menopause, or due to oral contraceptives, can affect tear production, leading to dry eyes.
Conditions such as rheumatoid arthritis, diabetes, thyroid problems, Sjögren's syndrome, lupus, and Graves' disease can contribute to dry eye symptoms, stated American Optometric Association.
A dry environment, wind, air conditioning, sun exposure, and smoke can evaporate tears and cause dry eyes 
Certain medications, including antihistamines, decongestants, blood pressure medications, and antidepressants, can reduce tear production 
Long-term contact lens wear:
Akpek (2022) stated that chronic wear of contact lenses can irritate the surface of the eyes, leading to dry eyes. 
Dry eye is a part of the natural aging process. According to Cleveland Clinic, most people over age 65 experience some symptoms of dry eyes.
Symptoms:
 A stinging, burning, or scratchy sensation in the eyes is common (Mayo Clinic).
The eyes may appear red and inflamed (Cleveland Clinic).
 "Dry eyes can make the eyes more sensitive to light, "says Mayo Clinic
There may be stringy mucus in or around the eyes
Feeling of a foreign body:
It may feel like there is something in the eye.
Oddly, dry eyes can cause an overproduction of tears, a condition called reflex tearing.
Will using a humidifier alleviate dry eye symptoms?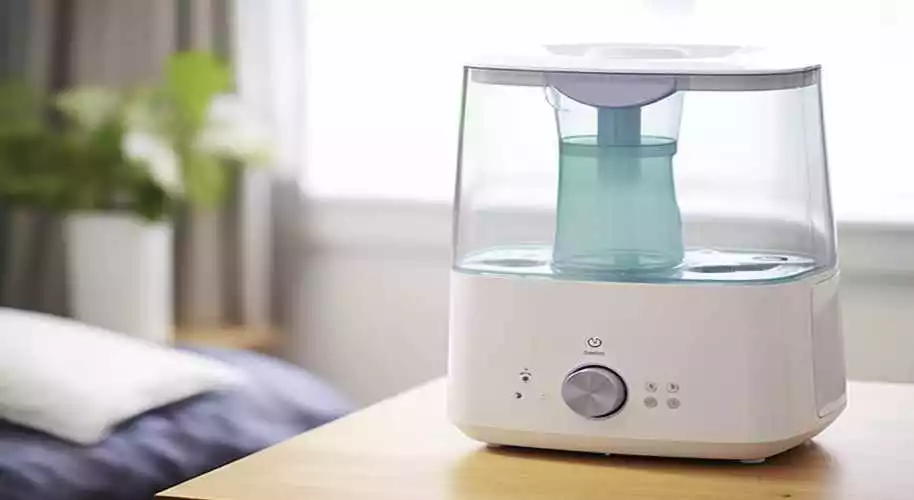 A humidifier can help alleviate some symptoms of dry eye syndrome by adding moisture to the air and slowing the evaporation of tears from the eye's surface. However, they are not a complete solution and should be part of a comprehensive dry eye treatment plan.
One potential solution to alleviate symptoms of dry eye is using a humidifier. According to Dr. Robert Latkany, founder of the Dry Eye Clinic at the New York Eye and Ear Infirmary, "A humidifier can help keep moisture in the air, which can reduce dry eye symptoms."
According to Baptist Eye: "It is possible that humidifiers may help with your dry eye symptoms. However, they won't address the main cause like artificial tears and other treatments can."
What are the Pros & Cons of Using Humidifiers for Dry Eye?
Using a humidifier for dry eye can offer several benefits but also has some drawbacks. Here are the pros and cons according to various sources:
Pros:
Humidifiers increase the humidity levels in the air, which can decrease the evaporation rate of tears, providing relief for dry eyes.
By adding moisture to your environment, humidifiers can keep your tears from evaporating too quickly, improving dry eye symptoms.
Beneficial in certain climates: 
Humidifiers are particularly effective in dry climates and can be used year-round. 
Complementary to other treatments: 
According to WebMD, Dry eye syndrome can be treated with artificial tears and a good humidifier.
Cons:
Some individuals noted a modest improvement in eye dryness with a humidifier. Medical News Today also claims that it did not completely improve the symptoms, indicating that it might not be a comprehensive solution for everyone. 
According to Baptist Eye, participants experienced temporary, although subjective, relief from dry eye symptoms when using a humidifier. 
Requires Regular Maintenance: 
Humidifiers need to be cleaned regularly to prevent the growth of mold and bacteria, which can worsen allergies and asthma symptoms.
"Over-reliance on a humidifier without addressing the root cause of dry eyes can lead to dependence on the device for relief," See and Be Seen Eye Care assured.
You Might Also Like These Reviews! 
Which type of humidifier is most effective for dry eyes?
Cool mist humidifiers are generally considered the most effective for treating dry eyes. These devices add moisture to the air, which can help to keep your eyes hydrated and alleviate dry eye symptoms. They are excellent for use in dry climates and are suitable for use year-round.
Among the top recommended models, the following recommendations receive high marks for their performance.
1. AprilAire 700M Whole-House Humidifier
AprilAire 700M Whole-House...
BUY WITH CONFIDENCE This humidifier was designed and manufactured in the USA by AprilAire – the...
FULL COVERAGE up to 5,300 square feet in tightly built homes with a capacity of 18 gallons per day
MANUAL HUMIDIFIER with a single sensor built into the standard control monitors indoor relative...
BUILT-IN FAN pulls heated air directly from the furnace through the humidifier
2. AprilAire 500M Whole-House Humidifier
AprilAire 500M Whole-House...
BUY WITH CONFIDENCE This humidifier was designed and manufactured in the USA by AprilAire – the...
FULL COVERAGE up to 3,600 square feet in tightly built homes with a capacity of 12 gallons per day
MANUAL HUMIDIFIER with a single sensor built into the standard control monitors indoor relative...
FEEL MORE COMFORTABLE while also preserving items in your home susceptible to damage from changing...
3. LEVOIT Top Fill Humidifiers
Sale
LEVOIT Top Fill Humidifiers for...
𝙁𝙖𝙨𝙩 𝙃𝙪𝙢𝙞𝙙𝙞𝙛𝙞𝙘𝙖𝙩𝙞𝙤𝙣 𝘼𝙡𝙡...
𝙀𝙖𝙨𝙮 𝙏𝙤𝙥-𝙁𝙞𝙡𝙡 𝘿𝙚𝙨𝙞𝙜𝙣: LEVOIT upgraded top-fill...
𝙉𝙤 𝘿𝙞𝙨𝙩𝙪𝙧𝙗𝙖𝙣𝙘𝙚 𝙒𝙝𝙚𝙣...
𝘾𝙪𝙨𝙩𝙤𝙢𝙞𝙯𝙚 𝙔𝙤𝙪𝙧 𝙈𝙞𝙨𝙩: Customize the mist output...
4. Top Fill Large Humidifier 6L for Bedroom
Top Fill Large Humidifier 6L for...
SMART & EFFECTIVE. Regulate the humidity level of your room or office with HuPro PRO-771 cool and...
QUIETER THAN A WHISPER / 12-HOUR TIMER / SLEEP MODE. Even though the device features a 360-degree...
MAINTAIN EFFORTLESSLY. The top filling design with a wide opening allows you to pour water directly...
SMART FEATURES FOR SIMPLE USE. Benefit from the LED screen with a touch panel for better control....
5. AquaOasis™ Cool Mist Humidifier
Sale
AquaOasis™ Cool Mist Humidifier...
IMMEDIATE DRY AIR RELIEF! Want to eliminate the suffering from the terrible effects of dry air? No...
OPERATES IN TOTAL SILENCE – SLEEP LIKE A BABY! No humming, whistling, or crackling as this durable...
MULTIPLE MIST SETTINGS + 360 DEGREE ROTATING NOZZLE – This Humidifier was created with YOU in...
2.2L LARGE WATER TANK – FILTER FREE- FEATURES A LIFTIME WARRENTY! Made with an impressive 2.2L...
6. Pure Enrichment® MistAire™ Ultrasonic Cool Mist Humidifier
Sale
Pure Enrichment® MistAire™...
INSTANT DRY AIR RELIEF: Ultrasonic cool mist technology safely and quickly moisturizes dry air for...
YEAR-ROUND COMFORT: High and low-speed settings combined with a 360° mist nozzle help you...
ENCOURAGE RESTFUL SLEEP: Easily run the humidifier overnight to maintain a healthy humidity level in...
EASY-FILL TANK & AUTO SHUT-OFF: The sleek and transparent 1.5 liter water tank is easy to fill right...
How can AprilAire products assist in preventing dry eyes?
AprilAire offers a range of products that can help in preventing dry eyes. These products maintain optimal humidity levels in your home, which is key to keeping your eyes well-lubricated and comfortable. Here's how AprilAire products can assist:
Whole-House Humidifiers: 
AprilAire's whole-house humidifiers add moisture to your home's air, combating the effects of low humidity, such as dry eyes, dry throat, and bloody noses. These systems work with your existing HVAC system to deliver the right humidity throughout your home.
Evaporative Humidifier Solutions:
AprilAire offers evaporative humidifier solutions that help conquer dry air and improve health and comfort. These devices add water vapor to the air through evaporation — a natural process that doesn't produce harmful particles or ozone.
Healthy Air System:
AprilAire's Healthy Air System helps dilute trapped indoor air and bring fresh, clean air into your home. While primarily designed to capture airborne viruses and reduce odors, this system also helps maintain a comfortable humidity, reducing the risk of dry eyes.
Room vs. Whole-Home Humidifiers: 
AprilAire emphasizes the benefits of whole-home humidifiers over room humidifiers, stating that their whole-home products treat the air in every room of your home. This ensures that you're getting the benefits of optimal humidity, including preventing dry eyes, no matter where you are in your home.
Humidifier Benefits: 
AprilAire's humidifiers are quality products that help fight issues like virus transmission, cracked floors, dry eyes, and itchy skin.
Are there other devices that can help with dry eyes?
Indeed, there are several devices available today that can help manage and treat dry eye syndrome:
Lipiflow (Johnson & Johnson Vision): 
This device is designed to effectively remove blockages from the meibomian glands, which helps improve tear production and reduce dry eye symptoms. LipiFlow is recommended as the standard treatment for Meibomian Gland Dysfunction (MGD) by the American Academy of Ophthalmology.
TearCare (Sight Sciences):
TearCare is a wearable eyelid technology device that administers controlled heat to the eyelids to melt blockages in the meibomian glands. It's a relatively new treatment method for MGD and Blepharitis with promising results.
iLux (Alcon): 
Alcon's iLux2 Meibomian Gland Dysfunction (MGD) Thermal Pulsation System is an innovative device for treating dry eyes. It uses light-based heat and compression to help improve the function of the meibomian glands.
Mibo Thermoflo (Mibo Medical Group):
This device provides a soothing, heated massage to the eyelids, helping to express the oils needed for a healthy tear film.
BlephEx: 
BlephEx is a handheld device that removes inflammatory biofilm, a common cause of more severe dry-eye cases.
NuLids: 
The NuLids System is the first dry eye medical device for home use. It is clinically proven to improve tear film quality and patient comfort.
Optilight (Lumenis): 
Lumenis light therapy is the first and only Intense Pulsed Light (IPL) dry eye FDA-approved device for managing dry eye disease due to MGD.
Equinox Low-Level Light Treatment: 
Equinox LLLT is an FDA-approved medical device that treats Meibomian Gland Dysfunction. It is a safe, non-invasive procedure.
What measures can be taken at home to mitigate dry eye symptoms?
Several home remedies can help mitigate dry eye symptoms:
Warm Compresses:
Applying warm compresses to your eyes can stimulate tear production and provide relief.
Eyelid Wash:
Washing crusty lashes can prevent blockage of oil glands, which produce the oil component of tears.
Blink More & Limit Screen Time: 
Regular blinking and taking frequent breaks from screens can reduce eye strain and dryness.
Dietary Changes:
Consuming oily fish and foods rich in Omega-3 fatty acids or increasing caffeine intake can reduce symptoms of dry eyes, as notified by NVision Centers.
Hydration & Environment: 
Staying hydrated and modifying your environment, such as using a humidifier, can alleviate dry eye symptoms.
How do you choose the right humidifier?
Choosing the right humidifier involves several factors to ensure it meets your needs and provides the most comfort.
Type of Humidifier:
There are several types of humidifiers, including cool mist, warm mist, ultrasonic, and evaporative. Cool mist humidifiers are generally recommended for dry eyes, but the best choice depends on your needs and environment.
Size and Capacity: 
Choose a humidifier based on the room size where it will be used. Larger rooms require larger capacity humidifiers. Additionally, consider the water tank size and how often you can refill it.
Noise Level: 
Some humidifiers can be quite noisy, especially evaporative ones. Ultrasonic humidifiers are the quietest option.
Ease of Cleaning:
Regular cleaning is crucial to prevent mold and bacteria growth. Look for models that are easy to disassemble and clean.
Features: 
Consider extras like auto shut-off, variable speed settings, and built-in hygrometers. Some models even have diffuser functionality for essential oils.
Price: 
Prices for humidifiers vary widely. Determine your budget before shopping, and remember that a higher price sometimes means better quality.
Room Conditions:
Consider a humidifier with a high output rate if you live in a particularly dry climate or use air conditioning/heating frequently.
Safety:
Cool mist humidifiers are generally safer for homes with children or pets as they don't use hot water.
For how long should the humidifier be operated?
A humidifier's duration largely depends on your home's humidity level and comfort.
Generally, it's recommended to aim for indoor humidity levels between 30% and 50%, according to the Environmental Protection Agency EPA.
You should adjust the settings or operating time to maintain this range if using a humidifier. This often means running the humidifier for several hours daily, especially in dry climates or during winter when indoor air dries.
It's essential to avoid overuse, as too much humidity can promote the growth of mold, bacteria, and dust mites. Using a hygrometer can help monitor indoor humidity levels.
FAQs
Does high humidity negatively impact dry eyes? 
High humidity does not necessarily negatively impact dry eyes; it may often have the opposite effect. According to a study published by the National Center for Biotechnology Information (NCBI), higher humidity levels serve as protective factors for the ocular surface. 
The University of Rochester Medical Center also suggests that about 45% or more humidity levels are best for your eyes. However, an interaction between high humidity and particulate matter in the air could worsen dry eye symptoms. Moreover, low humidity and dry air can impact the eye's tear film by increasing evaporation and reducing tear-film breakup time, leading to dry eyes.
How does the placement of a humidifier in various room sizes affect its performance?
The placement of a humidifier in various room sizes can significantly affect its performance.
Room Size: 
The size of the room is a crucial factor to consider when placing a humidifier. A small humidifier may not be effective for a large room and vice versa. Matching the humidifier's capacity with the room size ensures optimal performance.
Central Placement:
Placing the humidifier in the center of the room can help distribute moisture evenly. This position allows for adequate airflow and avoids over-humidification of certain areas.
Away from Sunlight and Vents: 
Humidifiers should be kept away from direct sunlight and air vents as these can affect the device's ability to maintain desired humidity.
Away from Electronics:
Electronic devices can be damaged by excessive humidity, so placing the humidifier away from such items is best.
Is it safe to use a humidifier while sleeping?
Yes, using a humidifier while sleeping is generally safe and beneficial. Sleeping with a humidifier can have several health benefits. It can reduce discomforts caused by dry air, such as dry skin, congestion, and throat discomfort, which may help improve sleep quality. A humidifier can also alleviate symptoms of dry air and seasonal allergies. A clean humidifier moisturizes the skin, mouth, and throat, promoting comfort and health. It can even reduce your chance of getting sick.
Wrapping up
Humidifiers can be a great way to reduce dry eye symptoms and improve overall comfort. Choosing the right model for your needs is essential, so consider the size, noise level, cleaning needs, features, and price before buying. 
Additionally, be aware of safety concerns when using a humidifier around children or pets. Lastly, monitor your home's humidity levels to ensure health and comfort without using the humidifier.
Humidifiers are an excellent tool for improving air quality in the home. With the right model and proper use, your dry eye symptoms can be minimized and overall comfort improved. 
Sharing is Caring!
You Might Also Like These Latest Content!