Last Updated on August 19, 2023
Baby swings for toddlers can be a great addition to your home. They provide soothing motion and lullaby music that can help keep your toddler entertained and relaxed. 
Baby swings are available in various styles, sizes, and colors, with features designed specifically for little ones. 
Whether you're looking for something traditional or modern, there's sure to be an option that will suit your toddler's needs and preferences. 
This article will help you find the perfect baby swing for your toddler so they can enjoy a fun, relaxing experience every time!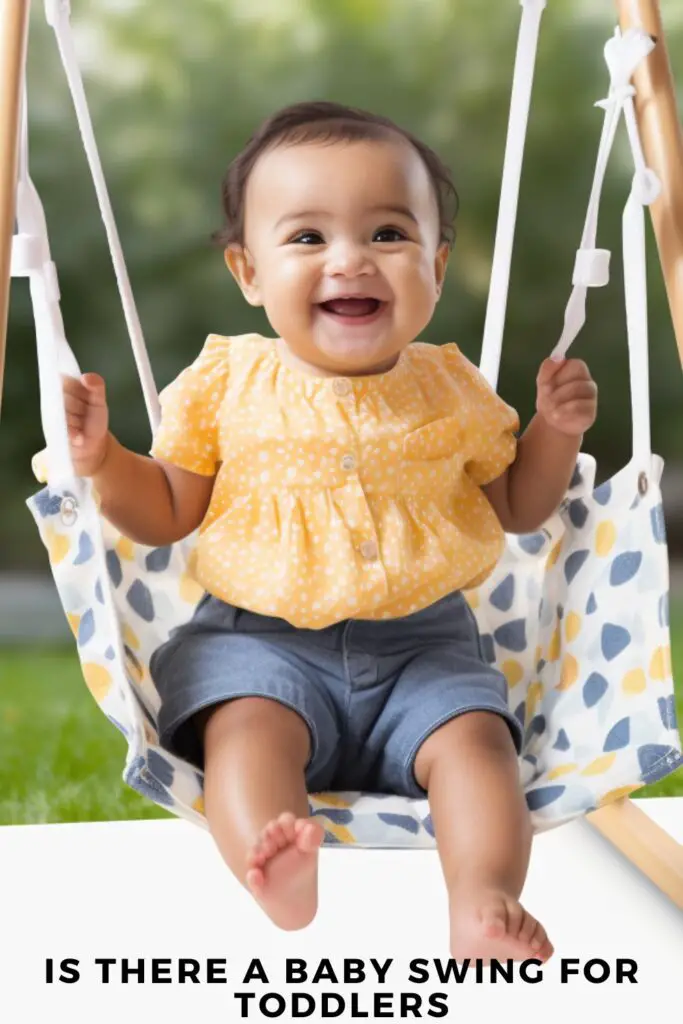 Is there a baby swing for toddlers?
Yes, there are many baby swings available for toddlers. From traditional swing sets to outdoor swings with safety harnesses, you can find a variety of toddler swings that are perfect for your little one.
For example, the Little Tikes 2-in-1 Snug 'n Secure Swing with High Back and T-Bar is designed to provide your toddler with a safe and secure environment. 
It features an adjustable T-bar and straps that hold your child securely in place. The swing also has a high backrest for extra support and comfort.
Another great option is the Swurfer Coconut Toddler Swing which comes with a 3-point adjustable safety harness. This swing provides plenty of room for your child to move around while remaining secure and comfortable.
Finally, if you're looking for something more traditional, you can find toddler swing sets at Lowes or Overstock with multiple swings, slides, and other fun activities.
No matter what type of swing you choose, it's important to ensure it meets safety standards and is appropriate for your child's age and size. With so many options, you will surely find the perfect toddler swing for your family!
Choosing the Right Baby Swing for Your Toddler
Knowing which baby swing is the right choice for your toddler can be hard. When choosing a baby swing, there are several factors to consider:
Safety: The most important factor is safety. Ensure your swing has been tested for safety and meets all applicable standards. Additionally, check the swing's weight limit and ensure it will accommodate your toddler's size.
Comfort: An important factor in choosing a baby swing is comfort. Look for swings with adjustable reclining positions and comfortable padding for your toddler's head and back. You should also look for swings with features such as music, vibration, or other sounds that can help soothe your little one.
Size: Consider the size of the baby swing when making your decision. If your home has limited space, look for smaller swings that can easily fit into tight spaces or even fold up when not in use.
What Are the Benefits of a Toddler Swing?
Baby swings can have a variety of benefits for toddlers:
Soothing Motion: The gentle rocking motion of a baby swing can be very calming and soothing for your little one. This can help them to relax and even fall asleep in some cases.
Entertainment: Many baby swings come with features such as music, lights, or sounds that can help keep your toddler entertained and engaged.
Portability: Baby swings are usually quite lightweight and can easily move from room to room. This means you can set it up wherever your toddler needs it most.
Affordable: Baby swings are typically very affordable, making them a great option for parents who want to give their little ones a fun and relaxing experience without breaking the bank.
What Features Should You Look for in a Toddler Swing?
When looking for a toddler swing, it's important to consider the features that will make your child's experience safe and enjoyable. Here are some key features to look for when shopping for a toddler swing:
Adjustable lap belt: A secure lap belt is essential for keeping your child safe while swinging. Look for a belt that can be adjusted as your child grows.
Easy-in and easy-out design: An easy-in and easy-out design makes it easier for your toddler to get in and out of the swing without help from an adult.
Weight rating: Make sure your swing is rated to hold up to 60 lbs. to accommodate your growing toddler.
Safety mechanisms: Look for safety mechanisms like rope chains on the swings so parents don't need to worry about pinched fingers or other injuries.
High-performance parts: Choose a swing set with high-performance parts with no exposed moving parts, so you can feel confident that your child is safe while playing.
When Should Toddlers Stop Using a Swing?
When it comes to toddlers and swings, parents should be aware of the age and weight limits of the swing. Most swings can accommodate babies from 6 to 20 or 30 pounds, but some brands don't give an age maximum because babies develop differently. 
If your toddler can get onto the seat, they can likely swing safely until they reach the weight limit. However, it's important to watch your child while they are swinging and ensure they are not pushing their limits.
Once a child reaches 35 pounds or more, it is recommended that they stop using a baby swing and transition to a regular swing seat instead. Regular swing seats are suitable for children ages 12 months and up, depending on their size and ability level. 
You Might also Like These Resources !
Baby Swing Safety Tips For Toddlers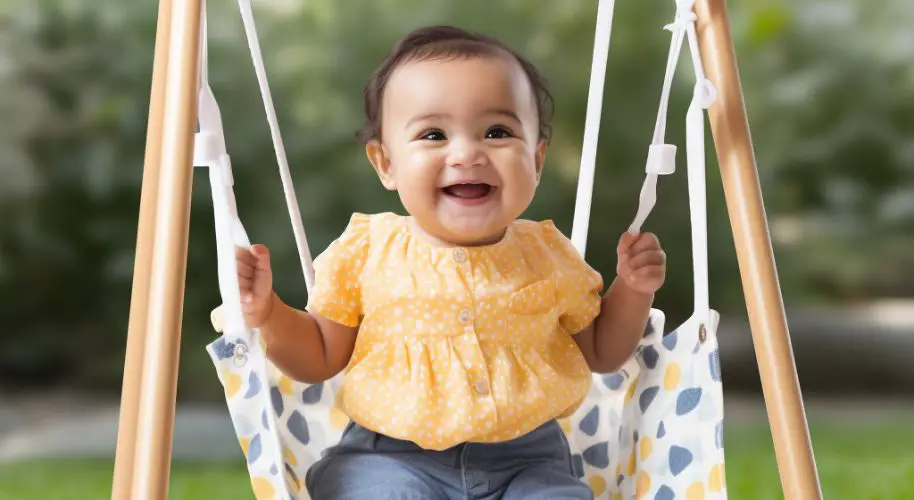 Regarding baby swing safety, there are a few tips parents should keep in mind. Baby swings are a great way to help soothe and entertain your little one, but it is important to use them safely.
Never leave your baby unattended in a swing. It is best to keep them in an area where you can easily see them and ensure they have good ventilation around their face. Wrapping the baby too tightly can be dangerous and cause suffocation.
Limit the amount of time your baby spends in the swing. Most experts recommend no more than 30 minutes at a time, even if your baby seems content. Additionally, babies under four months old should be seated in the most reclined position possible to avoid slumping over and suffocating.
When purchasing a baby swing, follow age recommendations for safety purposes. No evidence suggests using a baby swing can cause damage to a baby's back if you use it for less than an hour per day.
These simple tips will help ensure your little one stays safe while enjoying their time in the swing!
FAQS
How Long Can Toddlers Stay in a Swing?
Most experts recommend limiting your toddler's time in a swing to one hour, split into two chunks of no more than 30 minutes each. This is especially true for younger toddlers, who are more likely to become fussy after spending too much time in a swing.
It's also important to ensure that your toddler is properly strapped into the swing and that the straps fit snugly around them.
Is it Good For Toddlers?
Yes, it can benefit toddlers if used safely and in moderation. Swinging helps soothe and calm babies while providing vestibular stimulation, which is important for their development.
It can help build core strength, increase muscle tone, and improve coordination. However, ensuring your toddler is properly secured and supervised when using a swing is important.
Wrapping Up
Using a baby swing can be an enjoyable experience for your toddler, but it is important to follow safety guidelines and use caution. Ensure the swing is age-appropriate, secured properly, and always supervised. 
Additionally, limit the time your little one spends in the swing and pay attention to their reactions if they seem uncomfortable or distressed. Following these tips will help ensure that your toddler has a safe and enjoyable experience in their baby swing!
Thank you for reading!
You Might Also Like These Latest Content !